Ed and Laura Yoder came to Clermont from Falls Creek, PA to Clermont in 1931. Laura, a registered nurse,had two sisters in Clermont. The Yoders had a son named John(Jack) who was born in 1915. He was a Junior in High School when thay came to Clermont.Laura's two sisters in Clermont were Annie Erlandson( John's wife) and Nellie who was Emil Erlandson's wife. In addition to the sisters Laura had a brother in Clermont. His name was John Matthews and he worked as a bookkeeper at the clay plant. At first the Yoders lived in a house next to the Erlandson Grocery Store. At that time the Post Office was located in the basement of that house. From there the Yoders moved into a house next to Anderson's Store. The house is shown below.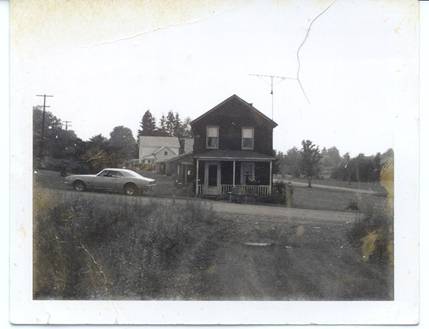 After living there for several years they moved to what used to be the Pennsy Station agents house. Here is a 2004 photo of the house that is now owned by Dave and Jack Yoder.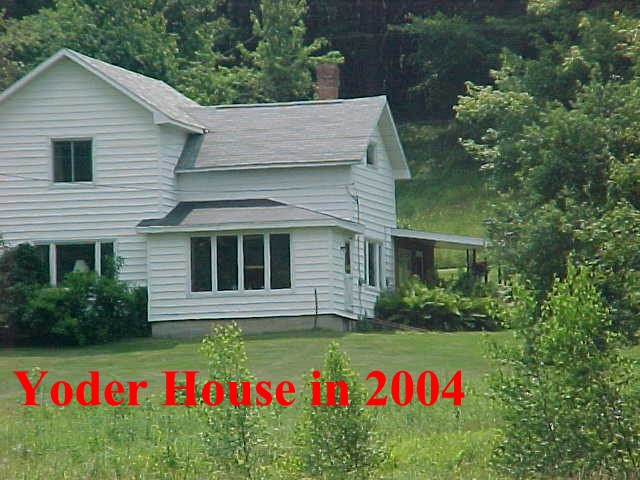 Ed worked several different jobs in Clermont. He cut chemical wood and also worked on the highway construction of the road between Crosby and Emporium. Ed had attended Clarion Normal School before coming to Clermont. He also served a a Township Supervisor for Sargeant Township for several years. For a time he hauled mail from Marvindale to the Clermont Post Office. Their son Jack finished High School in Smethport. He worked at several jobs in the Clermont area including one at strip mine. He served in the United States Air Corps during World War II. He was injured in an accident while in the army. After his discharge he began work at the Quaker State Refinery in Farmers Valley and worked there until his retirement. Jack married Ann Cecchi and they had two sons. Their names are John and David Yoder and presently live in Smethport. They both attended Smethport Area High School. David graduated from Lock Haven University and is employed by I. U. 9 and works at the Smethport Area Schools. John known as Jack by everyone graduated from Allegheny College. He then attended and graduated from Dickinson Law School in 1970. He began law practice with Ralph de Camp in Kane, Pennsylvania. He came to Smethport and joined the law office of Robert Apple in 1974. He also served as Public Defender for Mc Kean County from 1972 to 1982. In 1982 he became District Magistrate and served in this capacity until 2003. He was then elected to the position of Judge of Mc Kean County Court of Common Pleas and assumed office in 2004. Judge Yoder's wife, Ronaele, is the daughter of a Clermont native. Her mother was Eloise Anderson who was the daughter of John and Lily Anderson. Jack and David's father passed away and is buried in St. Elizabeth Cemetery. Their mother was in Sena Kean manor for a number of years. She passed away on September 2, 2005.